Mental health - Mindfulness
Learn a little more about the practice of mindfulness with links to free training and online audio clips and resources. Learn to live in the present moment it can be one way to lessen worry if we ground ourselves in the present moment through mindfulness. Mindfulness is a great technique that can help reduce stress during challenging times.
Mindfulness
Mindfulness is a simple form of meditation that typically consists of focusing your full attention on your breath as it flows in and out of your body. By focusing on each breath in this way it allows you to observe your thoughts as they arise in your mind and, little by little, to let go of struggling with them. As you practice mindfulness you will over time realize that thoughts come and go of their own accord; that you are not your thoughts; they are transient. They come and they go, and ultimately, you have a choice about whether to act on them or not.
Mindfulness is about observation without criticism; being compassionate with yourself. If you feel unhappiness or stress, rather than taking it all personally, you learn to treat your thoughts as if they were black clouds in the sky, and to observe them with friendly curiosity as they drift past. In essence, mindfulness allows you to catch negative thought patterns before they tip you into a downward spiral. It begins the process of putting you back in control of your life.
10 minute Daily Mindfulness
Join in with a daily 10 minutes mindfulness session delivered by Dr James Groves a new session is uploaded each day, previous uploads are also available. There's also an essential COVID Mindfulness Pack, see below and click here to open. This programme is part of a package of resources developed by health professionals for healthcare staff named BEAT COVID: Get Prepared
Unmind app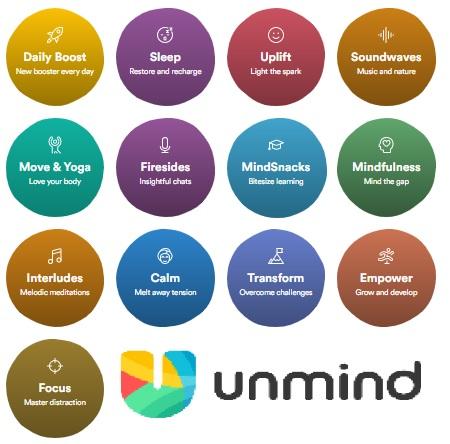 The Unmind app provides a wide range of tools to support mental, emotional and physical wellbeing. A series of mindfulness practices are available via the app (currently free to NHS staff until 30.06.2021).
For details of the mindfulness practices available click
here
To learn how to access the Unmind app - see the staff guide to Unmind here.
Stress Control
A number of mindfulness practices are also available via the Stress Control website. Click here
For more information about the free online stress control programme click here
UC San Diego School of Medicine's Center for Mindfulness
Mindfulness can be a very effective practice in helping to reduce stress and anxiety. If you would like to try a short session the UC San Diego School of Medicine's Center for Mindfulness has over 50 sessions that you can access via their website. It invites you to take a few minutes for yourself to find harmony amid stressful times by listening to a guided mindfulness session.
A short video explains the neuroscientific research and benefits of mindfulness meditation and it's direct impact on our brain and our mental and emotional wellbeing.
50 free mindfulness practices are listed here with a link to all the sessions.
Inspire Mindfulness Hub (April 2020)
Follow these mindfulness sessions with Frank Liddy from Inspire Wellbeing. Click here