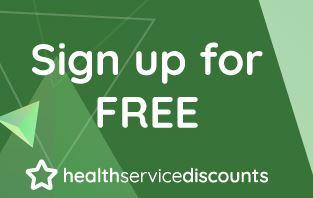 Discounts - Health Service Discounts (HSD) - Free to join for All NHS Staff
Health Service Discounts have been saving NHS and healthcare workers time and money with great discounts and exclusive deals for over 15 years. This scheme extends to all NHS organisations within the UK. HSD is based in England but offers relate to National High Street Retailers and their Online Stores.
The scheme is free to join and is open to:
NHS staff (full time, part time or temporary/bank)
GP staff
Dental practice staff (if NHS)
Pharmacy staff (if NHS)
Retirees of any of the above groups
Students and trainees (e.g. medical or nursing students)
Volunteers in the health sector
NHS related Charities
Foundation Trust Members
Carers
Hospice staff
Family of NHS staff
To see the discounts you are entitled to, just log into their website https://healthservicediscounts.com/
You can also sign up to receive a weekly email with the latest offers.


Why join?
It's entirely free to join and use
Join over 1 million NHS and healthcare workers
Exclusive deals and discounts from 100s of brands
Save money on everything from a holiday to your weekly shop
Save time searching – find all your discounts in one place
make savings across:
Cashback Card
The scheme also offers an optional cashback card (preloaded VISA card whereby you gain cashback on your purchases with their retail partners). At the moment the only way to obtain a card is by verfiying your current NHS staff status and this is done by registering using your Trust email address. The scheme is looking at other ways of verifying legitimate staff status for those staff who do not have a work email address. For further details on the cashback Spree Card click https://healthservicediscounts.com/nhs-cashback-card