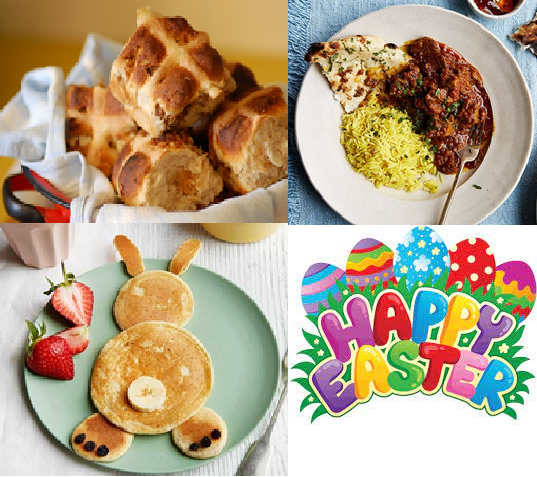 Recipe of the Month - April - Have an Egg-cellent Easter!
April 2021 - Have an egg-cellent Easter!
Food plays a big part in Easter celebrations, even more so as Easter Sunday marks the end of Lent. There is no reason why you can't enjoy some treats over Easter, but it can be easy to overdo it with all the chocolate on offer. Here are some helpful tips on how to enjoy the Easter break without overindulging.
Easter eggs
Avoid grazing on chocolate all day
Take time to enjoy your Easter eggs – remember they don't all have to be eaten at once
Keep an eye on your portion sizes - opt for mini versions or why not share your egg
Why not go for dark chocolate. You may find the strong flavour will mean you eat less
With the shops full of the chocolate variety at this time of year, it can be easy to forget about real eggs, which provide nutrients including zinc, selenium, vitamin D and protein.
Tips to keep active
Make the most of the Spring weather and go for a long walk or bike ride
Create an Easter egg hunt in the garden using stickers or toys rather than chocolate
Egg-and-spoon race for children, which will get them active and out in the fresh air
Recipes
Got some leftovers from Easter Sunday roast? Make the most of your leftover lamb with this flavour-packed 'Leftover lamb curry'. Or why not try our 'Easter bunny pancakes' as a fun and healthy breakfast treat for all the family. Fancy something more traditional? Our simple 'Hot Cross Bun' recipe is delicious.
We value your opinions, please send us your feedback, comments or why not send us you're tried & tasted healthier recipes. Feedback & comments: cookit@southerntrust.hscni.net
Useful sources of information
British Nutrition Foundation - https://www.nutrition.org.uk/healthyliving/seasons/easter.html
British Heart Foundation - https://www.bhf.org.uk/informationsupport/heart-matters-magazine/nutrition/easter
Remember
What we eat every day has a significant impact on our health. Eating a healthy, balanced diet is an important part of maintaining good health. The Cook it! Team Dietitians feature healthy recipes each month for Trust Staff to avail of and try out at home. These could be tried and tested healthier recipes from our community nutrition programmes, trusted websites or even recommended by staff. The recipes are featured every month in Southern-i and are also available from our Staff Health and Wellbeing website -
www.u-matter.org.uk
We hope that you continue to find the recipes and information useful and welcome any comments or feedback that you may have. Feedback & comments to cookit@southerntrust.hscni.net.
All Recipes
Details of all previous Recipes of the Month can be found in the Recipe of the Month - The Collective (see below) or by clicking on this link HERE
Useful links