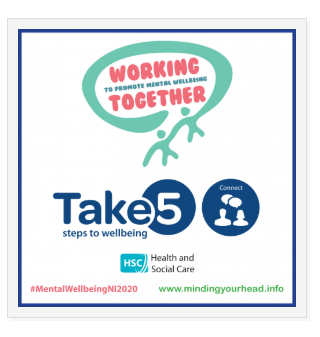 New Regional Campaign - Working Together To Promote Mental Wellbeing - This Week GIVE
This regional mental health and emotional wellbeing campaign campaign was launched on 7th September 2020 - 'Working Together To Promote Mental Wellbeing".
The campaign is being launched by the Public Health Agency (PHA) along with five Health and Social Care Trusts, the NI Ambulance Service and the Health and Social Care Board, who with the community and voluntary sectors will work together to promote ways to support our mental wellbeing, with co-ordinated messages and links to support on social media including to the updated resources website www.mindingyourhead.info

Over the next five weeks the campaign will focus on the 'Take 5 Steps to Wellbeing', which offers practical ideas to help support people with protecting and improving their own mental wellbeing and those around them.The Take 5 Steps to Wellbeing are evidence based, easy to follow steps to help maintain and improve your wellbeing. The steps are - Connect, Be Active, Take Notice, Keep Learning and Give.
Give
Click on the image below to view a video of actor Kerri Quinn as she shares with us how small acts of kindness and giving, doesn't have to cost anything - whether it's a smile to stranger or volunteering our time, to GIVE can make us feel better too. Look out on socila media this week for other ideas on how you can give to yourself and others #MentalWellbeingNI2020.
Kerri also reflects on the importance of reaching out for support if people are struggling to cope as we mark World Mental Health Day on Saturday 10 October. For more information on the campaign and additional resources to help look after your mental and emotional wellbeing visit: mindingyourhead.info
If you are in crisis and struggling to cope, call Lifeline free on 0808 808 8000 to speak to a qualified counsellor immediately.
#MentalWellbeingNI2020 #WorldMentalHealthDay #WorldMentalHealthDay2020 #WMHD #WMHD2020
Keep Learning
Click on the image below to view a video of Annette Kelly, from Little Penny Thoughts reminds us about the importance of continuous learning and exploring new things. Learning is an important element to maintaining a good mental wellbeing.
For details of mental health training available in the Southern Trust area click here

Take Notice
Click on the image below to view a video of Melanie Breslin from The Baking Mind shares with us the need to take notice of our thoughts and feelings and the world around us to promote positive mental and emotional wellbeing.
Be Active
Click on the image below to view a video of former GAA Player Oisín McConville explains the importance of being active for both our physical health and mental and emotional wellbeing.
Connect
Below Siobhan O'Neill, helps s to connect this week. Siobhan is the Interim Mental Health Champion for Northern Ireland, and shares with us the focus for this week, CONNECT, as one of the steps we can take daily to care for ourselves. Click HERE to view video
This week also sees World Suicide Prevention Day on 10 September. It is vitally important to remind people that if they or someone they know is experiencing a crisis, that the 24/7 crisis helpline Lifeline (0808 808 8000) is available at all times.
"We hope that encouraging people to Take 5 Steps to Wellbeing will help prevent people reaching crisis point. We encourage people to recognise the signs in themselves and others and know where they can get help as early as possible."
Week one of the campaign focuses on 'Connect' and is being led by the recently appointed Interim Mental Health Champion for Northern Ireland, Professor Siobhan O'Neill.
Get involved by sharing our social media posts and using the hashtag #MentalWellbeingNI2020 on: