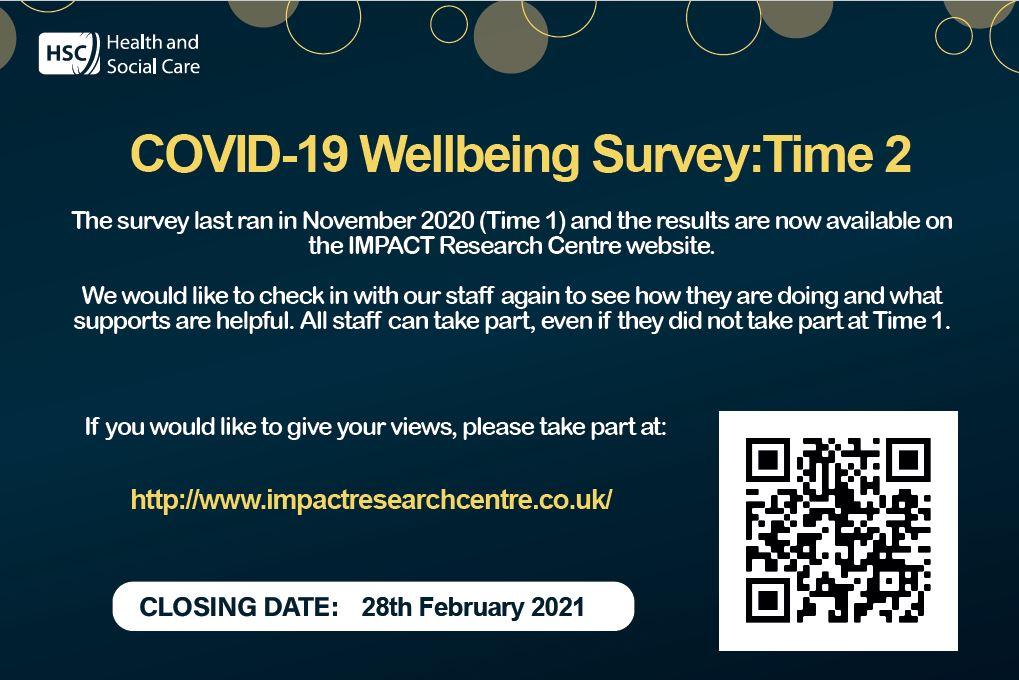 THE COVID-19 WELLBEING SURVEY: TIME 2 - Now extended until 28th February
Many health and social care organisations in Northern Ireland are cooperating on a study that seeks to find out how staff are doing and what supports are helpful and what would be helpful during this pandemic. The Northern Health and Social Care Trust is part of this cooperation.
The survey is open to all staff working for health and social care employers in Northern Ireland including those working directly with patients (e.g. doctors, nurses) and those working in support roles (e.g. driver, administrators).
The survey last ran in November 2020 (Time 1) and those results are now available on the IMPACT Research Centre website.
We would like to check in with our staff again to see how they are doing and what supports are helpful.
All staff can take part, even if they did not take part at Time 1.
You can participate by completing the HSCNI Covid-19 Staff Wellbeing Survey: Time 2.
If you would like to give your views, please take part at:
or use the QR code below.
Survey closing date: 28th February 2021
Your input will help us greatly in our efforts to support the wellbeing of those staff affected by the COVID-19 outbreak.
More information on the survey is available on the IMPACT Research Centre website: http://impactresearchcentre.co.uk. Please direct staff who are without email to this website where there is a further link to the study. If you need help or want to know more about the study please contact: ciaran.shannon@northerntrust.hscni.net