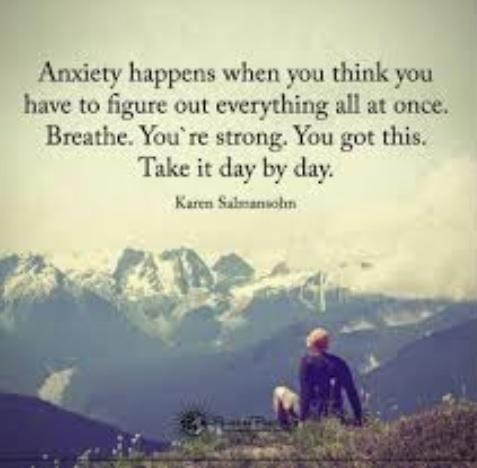 ANXIETY - Is This Week's Focus As We Live and Work Through COVID 19
The feeling of safety is fundamental to our mental state. During this time of uncertainty many of us are experiencing heightened stress, fear, anxiety, panic and overwhelm, alongside a sense of loss or powerlessness. Every decision can feel like a big deal at present, and it's the not knowing and uncertainty that can be the hardest part. Such feelings are normative human responses in the face of infectious disease, trauma, and global uncertainty.
Understanding how such emotions are held in our body, can support us to recognise the importance of findings ways to enhance feelings of internal safety, for both ourselves and those around us.
Anxiety can affect our thoughts, mood, feelings, behaviours and impact upon our physical health. In order to lessen our anxiety there are things that we can do to help keep our thoughts and feelings in check as well as practical things we can do to look after our physical health and general wellbeing.
What is anxiety?
Anxiety is a feeling of worry, fear or nervousness that can be immediate, short term or persistent. Many people feel anxious at times, especially when faced with stressful events and changes to our lives, it's a natural human response when we perceive that we are in danger. (Source: https://mentalhealth-uk.org/help-and-information/conditions/anxiety-disorders/what-is-anxiety/ )
Dealing with anxiety in work and at home
As healthcare professionals you are dealing with many challenging situations both in the workplace and in your personal life:
Care workers, support service workers, those working in our hospitals and communities providing care and support in a number of ways - caring for your patients, protecting yourself, dealing with loss of patients, protecting your loved ones, risk of working in overdrive and experiencing burnout.
Working from home and managing family life – home schooling, caring responsibilities, feeling isolated, feeling helpless.
Managers – managing the everyday pressures, changes in work practices, supporting your staff.
Because of this a number of supports that have been put in place for staff.
Below are some tips on how to manage in times of uncertainty and anxiety.
Information for parents
Children and parents may both be exeperiencing their own anxieties as a result of COVID-19. The articles below provide useful advice and tips.
Parenting in the time of COVID-19 (Action Mental Health) click here
Advice for school at home (Parenting NI) click here
Health and Wellbeing - Information and Support for Staff (COVID-19) click here
We can reduce anxiety by setting aside time each day for connection, movement and relaxation.
Connection matters - It is healthy and normal to need other people. Identify and connect with those people who help you feel calm. Reach out for support if you need to.
Movement matters - When we move we can reduce the build-up of stress hormones. Build in movement breaks and activities which have a calming effect on our nervous system. (see some of our recent news articles on physical activity during COVID-19)
Relaxation matters - Include regular deep breathing practices which can support in quietening our threat system. Breathing out slowly is an easy way to support your nervous system to feel calmer. When you take a take deep breath it sends a message to your brain that all is okay.
Pay attention to experiences that increase stress and heighten your anxiety. For example consider limiting and structuring when you watch the news. Perhaps avoid watching the news just before you go to bed as this can impact on quality of sleep.
Control
It's easy to get lost in worrying about things that are out of our control. The more we focus on what's not in our control, the more hopeless or anxious we are likely to feel. The single most useful thing you can do is focus on what is in your control.
Try to make the unpredictable, predictable. When things feel out of control, maintaining external structures such as routines and predictability to your regular day will help. Try to start and end your day at roughly the same time as you usually would. Establish a structure for when you are going to phone someone, eat meals etc.
'When there is a big storm, the boats in the harbour drop anchor- because if they don't, they'll get swept out to sea. And of course, dropping anchor doesn't make the storm go away- but it can hold a boat steady in the harbor, until the storm passes in its own good time'.
The quote above is taken from this booklet which provides useful information and advice on:
How to cope with uncertainty
Focusing on what you can control
Dealing with difficult emotions
Adjusting
Seeking help
Reducing conflict
An activity schedule planner
Activities such as relaxed breathing and mindfulness
Looking After Your Wellbeing and Resilience
This short NHS video (2 mins, 12 sec) can be viewed here
Recovery College Videos on Anxiety