COVID-19 Information for staff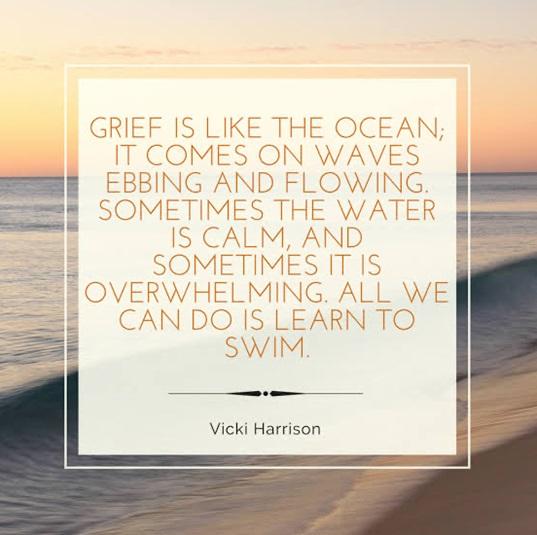 **GRIEF and BEREAVEMENT - This Week's Focus - COVID-19**
Grief is a small word for what is often the most painful experience of our lives. It is a very normal feeling we have when someone important to us dies. At its core, grief is our response to loss; the loss of the person and multitudes of secondary losses to routines, responsibilities and shared experiences which will never be the same again.
Everyone can expect to experience death in their lives, and while there are shared aspects, we each grieve in our own way. There is no right or wrong way to grieve, there is no timescale to grieving and there are no set stages that need to be worked through to move us from the beginning to the end. The death of someone important to us is not something we get over. Their absence from our lives is permanent, and we can expect to feel this absence forever, however the intensity of the feelings will change over time.
Grieving is a natural process which helps us to adapt to loss and pain is the tool that helps us to change. It is commonly referred to as grief work, because there are key adjustments we need to make to help us to heal. Accepting the reality that the person is never coming back, realising that it is possible to maintain our relationship with the person who has died and allowing ourselves to think positively about our future are important steps. This takes effort, and it is ok to take breaks, to set our pain aside for a while, to give attention to everyday matters which are also essential for our survival, to do things that bring us joy. In fact, it is really important that we do this, and this we are not dishonouring the person who has died when we do. It does not diminish their loss from your life. The greatest gifts we can give ourselves when we are grieving are to go gently, to avoid self-judgement, to practice self-compassion and to be kind.
Trust Bereavement Helpline
This helpline will be launched on Monday 18th May.
This flyer is available here
Practices to help us come to terms with grief - click here
Key messages around grief and bereavement
1. We know that support, connection and comfort when someone is bereaved is really important. We also know that during this COVID-19 pandemic, the restrictions around our mourning and funeral rituals can add to our sense of loss and isolation. So it's really important to stay connected (for those who are grieving) and (for those who wish to support people who are grieving) - in the immediate aftermath of a death and in the longer term.

2. It's important to ask for support and what you need if you are bereaved. People do want to support you if they know what you need.

3. Pay attention to your emotional wellbeing – there is no right or wrong way to grieve.

4. Look after your physical health – eating, sleeping, being physically active.

5. Practical support is also very important – give or accept offers of practical support as much as possible within the limits of the current restrictions.

6. And most importantly if you are supporting someone who is bereaved listen compassionately and without judgement offering them the space to talk.
Six Essential Needs of Mourning
This short video explains that we can and should work with our grief. While it lives inside of us, it's passive and inert. But when we find ways to express it outside of ourselves, it changes. It becomes active. We feel better, and our experience of life is enriched. This process of expressing our grief is called mourning. While each of us grieves and mourns in unique ways, we share six basic mourning needs. This video will focus on understanding and intentionally working on these needs during this time.
Click here (link is external) to view the video.
Alan D. Wolfelt, Ph.D., is an author, educator, and grief counsellor.
Using Technology to Say Goodbye
This short video features Dr Elaine Kasket, Counselling Psychologist as she talks about this really difficult stage of dying and grieving during COVID-19 and how technology might be able to help. In particular:
Staying connected to those in hospital
The comfort of remote connection
Devising new funeral rituals
Flexibility around ritual
Now is the time to plan
Click here (link is external)
Meaningful Ideas for Funerals, Memorial Services or Celebrations of Life During the Covid-19 Pandemic / Virtual Choirs
- to view this resource click here (link is external)
Music and singing can be a very meaningful part of a ritual or service as most people have a particular song or piece of music that really speaks to them. You Tube features a number of video clips recorded by virtual choirs from all over the world offering a wide range of songs, hymns and other contemporary music which could be incorporated into a virtual service.
Click here (link is external) for more information