26 February, 2021 - 09:45

to

30 June, 2021 - 09:00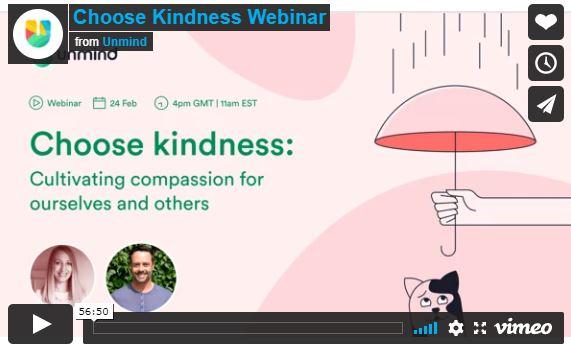 Choosing Kindness - Cultivating compassion for ourselves and others Webinar - Unmind - Watch Anytime
Discover how kindness and compassion can benefit our mental health and professional wellbeing. This 1 hour webinar took place on Wednesday 24th February was hosted by UNMIND.
Re-live the live webinar below by clicking on the image and explore the resources highlighted by UNmind.
To watch the webinar click here
Michaela Thomas - Clinical Psychologist, Couples Therapist & Founder of The Thomas Connection, guided us through the importance of cultivating kindness and compassion, and the benefits that doing so can have for our mental health and professional wellbeing. Whether it's to boost our mood, help us feel more capable, or to strengthen our relationships with others, Michaela takes us through practical exercises and helpful tips (based on science!) to help us cultivate kindness every day.
Resources
More from Michaela Thomas here.

Unmind supporting content
Cultivate Compassion Pt.1 & Pt.2 | Fireside
Anxiety, Laughter, Love with Josh Roberts | Fireside
Uplift | Tools

Additional Reading
The Lasting Connection by Michaela Thomas. View here.
Pause, Purpose, Play podcast with Michaela Thomas. View here.
Use the Free UNMind App (available to NHS Staff)
The UNMind App is still freely available to all NHS currently up until the end of June 2021. The organisation is currently discussing the longterm future of Unmind within the NHS. Please note you will never be personally charged for using this service - you do not share any of your financial details in signing up or downloading the app. A staff guide has been developed by the Trust explaining the features of the UNmind app and how to access it. To view this short guide click here.