3 February, 2021 - 16:30

to

30 April, 2021 - 16:30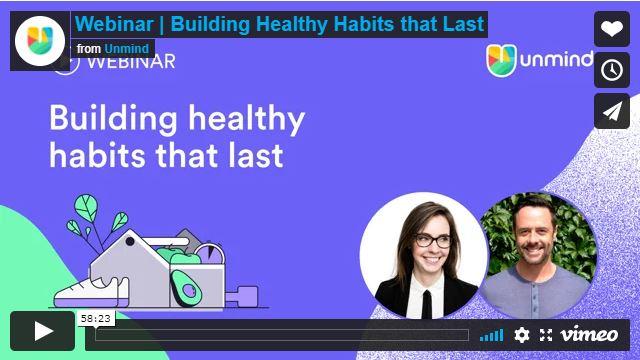 Building Healthy Habits that Last - Unmind Webinar - Dr Heather McKee, Behaviour Change Specialist (Watch any time)
This 1 hour webinar took place on Thursday 28th January and was hosted by UNMIND.
It featured Dr Heather McKee, a Behaviour Change Specialist, who led the way whilst she tackled the topic of habits; what they mean, the science behind our habits, and practical tips on how we can healthily form habits that stick. Covid disrupted our daily rituals – and that's not necessarily a bad thing. By forcing us to hit the brakes and reevaluate the way we live our lives, the pandemic has given us opportunities for regrowth through building better habits.
Re-live the live webinar below by clicking on the image and explore the resources highlighted by UNmind.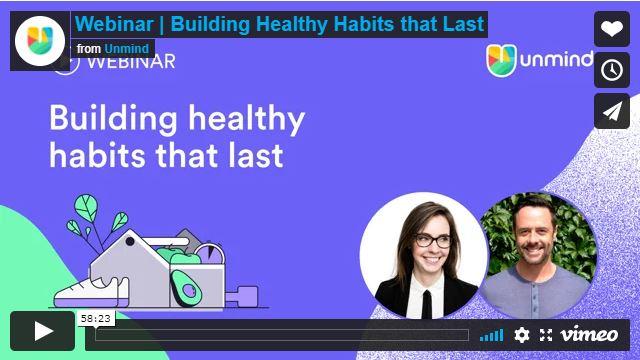 Useful Resources
Your Five-Step Blueprint: Creating healthy habits that last. Read here.
More from Dr Heather McKee. View here.
Unmind Series to help with habit building
Transforming Habits: Series | Transforming Habits
Additional reading
Use the Free UNMind App
The UNMind App is still freely available to all NHS (this free access was extended into 2021 (currently end of June 2021). Please note you will never be personally charged for using this service - you do not share any of your financial details in signing up or downloading the app. A staff guide has been developed by the Trust explaining the features of the UNmind app and how to access it. To view this short guide click here.