28 January, 2021 -

19:00

to

20:00

9 days remaining to event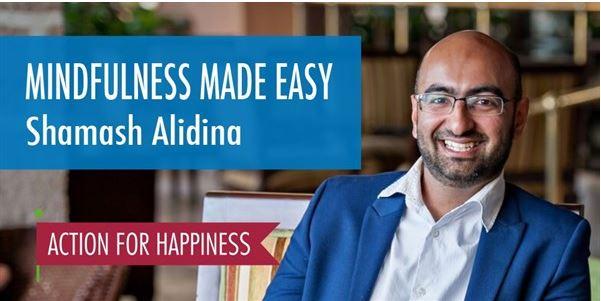 Mindfulness Made Easy - with Shamash Alidina - Action for Happiness Webinar - 28th January 7.00-8.00pm
Want to feel calmer and find ways to bring mindfulness into your daily life?
Messages telling us to be mindful or appreciate what we have can leave us feeling that we're falling short, especially in challenging times. There are so many demands on our attention and simply not enough hours in the day to start new habits!
At this timely event, mindfulness expert and best-selling author Shamash Alidina, will share the power of small steps and self compassion in helping you live more mindfully - in a way that is achievable and with a sense of playfulness, rather than overwhelm or pressure.
The event will take place on Zoom at 7pm London time (GMT).
To book a place click here - this webinar is free
About The Speaker
Shamash Alidina is the international bestselling author of "Mindfulness For Dummies" and "The Mindful Way through Stress". He runs workshops and speaks at conferences all over the world and now uses webinars to show others how to teach mindfulness, too. Shamash also co-founded the Museum of Happiness in London. More recently, Shamash has been training practitioners in Acceptance and Commitment Therapy. This cutting edge approach skilfully combines acceptance, flexible mindfulness, values and committed action to help people live a rich and meaningful life.
The event will be hosted by Dr Mark Williamson from Action for Happiness.