21 December, 2020 - 09:00

to

31 January, 2021 - 23:00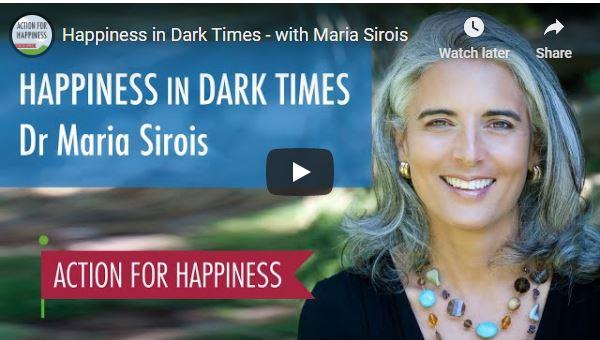 Happiness in Dark Times - Dr Maria Sirois - Author and Psychologist - Action for Happiness Webinar (Available until end January 2021)
We all face adversity and loss in our lives. So how can we stay calm and respond constructively in the inevitable tough times?
At this special event, Dr Maria Sirois shares new insights from Positive Psychology to help us survive and thrive, especially right now when so many of us are facing major challenges, worries and uncertainty. Maria combines the latest research with timeless wisdom and powerful personal stories to help us find more hope, happiness and resilience in our lives.
The event took place on 29th July 2020 - To watch this webinar click here
About The Speaker
Dr Maria Sirois is a psychologist, consultant and speaker who has worked in wellness and positive psychology for twenty years. Her work focuses on the resilience of the human spirit, particularly when facing chronic stress or significant transitions. She is author of 'A Short Course in Happiness After Loss' and 'Every Day Counts: Lessons in Love, Faith, and Resilience'.
The event was hosted by Dr Mark Williamson from Action for Happiness.